I had been awake for nearly twenty-four hours.  I think I might have slept one and a half hours on my flight from seven and a half hour flight from Detroit to Amsterdam.
My eyes were heavy, and I was simply exhausted.
It was the most peaceful experience I've had in a long time as I looked out of my hotel room to the trees of the Dutch Utrechtse Heuvelrug National Park.  My hotel was nestled in the remote and quaint town of Doorn, The Netherlands.
I call my self semi-fluent in Dutch.  I worked in the Netherlands for a few years during my twenty's.  While living in the Netherlands I became fluent in the Dutch language.
Now twenty-four years later, I thought I was still fluent, but alas, not so much.
I thought I could wing my way on my old rusty Dutch skills, but as soon as I checked into the hotel, I knew I was in trouble.
In typical Dutch fashion, everyone was super polite and helpful.  Dutch is a very difficult language.  Very few people learn Dutch.
For most of the 17th century (a period known as the Dutch Golden Age) The Netherlands was the dominant world power.  You may have heard of the Dutch East India Company.  The Dutch East India Company was one of the world's first corporations.
At one point in history, the Port of Amsterdam was the largest port in the world.  It currently ranks as the 38th busiest port in the world.
The prior week on June 19 and 20, I attended ProfitCon Nederland 2019.  Femke Hogema is the head of Profit First in the Netherlands.  She and her team worked countless hours to put on a amazing conference.
Most of the conference was in Dutch.  I shimmied out of my hotel room, knowing I would have to mingle with a lot of new people.
I have somewhat of an introverted personality.  Many times it has been a challenge for me to start small talk and get to know people at conferences that I visit.
Now I was going to have to mingle primarily in Dutch.  I walked up to the registration desk for ProfitCon 2019 and said in my best Dutch "Goede Morgen," which means good morning.
After getting all my conference goodies, I went to grab my continental breakfast.  I introduced myself to a few of the people and began to speak in my best Dutch that I could muster.
As I stood sharing breakfast with my newfound Dutch friends, I struggled a bit understanding everything that was being said.
However, I was determined.  I said to myself, "Damon, you are in the Netherlands now.  You are in a Dutch-speaking country.  You must speak Dutch."
Frequently I found my self saying, "Nog een keer" to my Dutch friends, which translates to "Say that again."
I also found myself saying, "Hoe zegt u … ?" which translates to "How do you say?"
I learned the phrases "Nog een keer" and "How zegt u?" twenty-six years ago when I first landed in the land of tulips and windmills.
Those two phrases worked just as well today as they did when I was first learning the Dutch language.
It was such a fantastic experience talking with my fellow Dutch Profit First Professionals.
I started to recognize some interesting similarities and differences between my Dutch colleague.
Language
In every language, people have different ways of saying things and expressing their voice.
For instance, here are some distinct literal translations from Dutch to English.  Contemplate the following:
"I love you" in Dutch is "Ik hou van jou. The direct translation is "I hold from you." In other words, I hold you.  As I think further into this, when I love someone, I hold them close to me.
"I need it" in Dutch is "Ik heb het nodig." The direct translation is "I have need of it."
"I sept well" in Dutch is "Ik heb smakelijk geslapen." The direct translation is "I slept tasty."
"I'm scared" in Dutch is "Ik heb bang." The direct translation is "I have fear."
The words we use have potent effects on the way we approach the world.  I thought a lot about the way the Dutch say things and the way Americans say things.
Looking further at the phrase, I am scared.  From an American standpoint, when I say I am scared, I take ownership of fear.  I become one with fear.  I transform myself into fear.  I rename myself fear.
The Dutch perspective is different.  I have fear.  I'm carrying fear in my hands.  I'm carrying fear in a backpack.  Fear is something that I am merely holding onto until I let go of it.
Fear is something outside of myself.  If I don't want the fear anymore, I can just throw it in the garbage can.  I can do a baseball windup and throw the fear as far as my arm strength will allow me.
How would my life change if instead of saying I am scared I started saying I have fear?
Would I be more inclined to act when I am scared if I took on the perspective that fear is an external feeling?
Business Life
Another thing that struck me was how similar my viewpoint was with those of my fellow Dutch Profit First Professionals.
Many of the people I talked to were working to transition from traditional accounting and bookkeeping work to being advisors and coaches for their clients.  They spoke about the challenges of working with their clients.
They also shared the success stories as they helped their clients implement Profit First into their businesses.  The clients that they had helped implement Profit First in the Netherlands were getting the same kind of results as the clients I had helped implement Profit First in America.
The Video Box Woman
Elisabeth Barry (aka The Video Box Woman) did a presentation on how to easily create videos for your business.  Elisabeth said making videos is easier than you realize.
Here are the only three things you need to create a video.
Smartphone
Selfie Stick
Microphone
That's it. I already had a smartphone and a microphone.  I have the fancy Bluetooth enabled Apple AirPods that I use when I'm talking to people on the phone.
The only thing I needed to get was a Selfie Stick.  I've always been a bit hesitant to get a selfie stick because when I've seen other people using a Selfie Stick, I've found it a bit annoying.  However, now I realized having a selfie stick would be super helpful in creating videos for my content marketing.
Let's face it everything on the internet is moving towards video. It's time for yours truly to jump on the bandwagon before it's too late.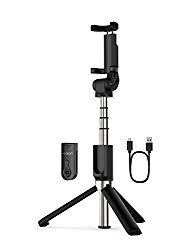 Here's the Selfie Stick I purchased on Amazon  Yoozon Selfie Stick.
The Selfie Stick has a tripod and a Bluetooth remote control.  It had great customer reviews and an 18-month warranty. It looked good to me.
Elisabeth then took out her tools and demonstrated how she made videos.  She then went on to give us Five Simple Tips For Making Great Videos.
Halfway through the presentation, Elisabeth said, "Now, it's your turn.  Everyone needs to take your smartphone and leave the room and create a short video.  You all have 9 minutes.  When you're done email me a copy of your video, so we can all see how you did.
I took my smartphone and went outside the hotel to record my video.  It was a beautiful day, and I wanted to breathe in some fresh Dutch air.
Now I had a dilemma.  What would my video be about?
I thought, and I thought. My brain went on overdrive. Then the idea had come to me.
Recently, someone emailed me their biggest question about money.  I emailed him back an answer.
That was it.  I just had to record a video answering the question I just emailed.
It took me all of four minutes to record my video.
Now all I have to do is publish it to YouTube or add to my website.
Super simple.
I'd just learned a quick and easy way to create new content for my business.
It took very little time.
To put things in context, when I write a blog post, it typically takes me 30-60 minutes of writing and editing to complete a blog post.
Here I could create a video that communicates a lot in a minimal amount of time.
After Elisabeth's presentation, I came up the one task I was going to start doing as a result of attending ProfitCon Nederland 2019.  I'm going to publish two videos a week on Youtube.  One video will post on Tuesday, and one video will be published on Thursday.
I've been publishing three blog posts a week since the beginning of May 2019, and now it's simple for me to get something published five days a week.
Additionally, I now have the variety of video for my content marketing.
If I want to take things a bit further, I can publish my video in three ways as follows:
Video – Published to YouTube and then added to my website.
Written – I can pay someone to transcribe the video and then I have a new blog post.
Audio – I pull the audio out of the video, and then I have a mini podcast episode. Alternatively, I could combine a couple of audio recordings to make a longer podcast episode.
That was a big takeaway for me from ProfitCon Nederland 2019.  If that was the only thing I learned from ProfitCon Nederland 2019, it would have been worth the plane flight.
I want to end by thanking Femke Hogema and everyone at Profit First Professionals Nederland for their hospitality and for making ProfitCon Nederland 2019 such a fantastic event.
I also want to wish the best to my new Dutch Profit First Professional brothers and sisters.  I'll see all of you next year at ProfitCon Nederland 2020.